The sales and marketing landscape is always in a constant state of flux and reinvention, shaped by the economy, the evolution of technology and consumer expectations.
However, some 'shifts. are more transformative than others.
This report addresses some of the more prominent strategic and tactical changes that have happened in the B2B sales and marketing space over the past 12 months and includes recommendations about how to benefit from these changes over the next 12 months.
To download the report click here.
EMAIL MARKETING
#1. Long-form emails are losing their effectiveness
WHY: There is still a role for clever, intelligently written and targeted long form emails. However, as more people begin to check and tidy incoming emails on their mobile phones, the 'long-form email' is losing its cut-through.
RESPONSE: Try to avoid long sentences or long paragraphs in long-form emails. Test your templates on your own personal mobile phone to ensure that your copy does not come across as overwhelming or intimidating. Try creating a 'Handraise Campaign' email (below).
#2. Broadcast Newsletters are no longer cutting through
WHY: Most broadcast email service providers, such as Mailchimp or Campaign Monitor, send emails in 'bulk' (eg. One-to-many). This signals to emails inbox providers, such as Gmail, that the email is a 'broadcast' and, in doing so, usually pushes the email into the Promotions folder or tab, rather than the Primary tab or folder.
RESPONSE: Explore technology options, such as B2Bdash.io and other tools that allow the sender to emails in 'batches' (eg. One-to-one). Emails sent in sequences will also perform better than broadcasts, as they are more likely to appeal to the interests of a recipient at their stage in their buying cycle.
HOT TIP: Try sending short-form 'Handraise Emails' as part of a segmented' batch' or part of a one-to-one email sequence. An effective Handraise Email is designed to solicit a simple reply.
SAMPLE EMAIL HANDRAISE
Hi Jesse,
I just put together a set of SOPs on how to start conversations with hard-to-reach prospects on LinkedIn. Let me know if you want it and I'll send you the PDF when it's finished.
James Tuckerman
WHY DOES THIS WORK: It's generous, leveraging the principle of 'reciprocity'. It's also not what most people expect. Not only is your email more likely to appear in the Primary folder, boosting open rates, but every reply will help you train the inbox spam filters of recipients to interpret your emails as important and valued.
SOCIAL MEDIA MARKETING
#3. Long form links are getting crickets
WHY: Not so long ago, if you wanted to collect leads using social media, you would simply post a link to a long-form landing page offering a free resource or a gift. Direct links to pages are now less likely to generate leads. This is mostly due to general fatigue and a general lack of engagement that these types of post now generate.
RESPONSE: Rather than post a link to a gift, post a short-form offer (eg. Handraise Post). An effective Handraise Post is designed to solicit a comment. As more people comment, the various social media engines are more likely to show your post to more and more people.
SAMPLE SOCIAL HANDRAISE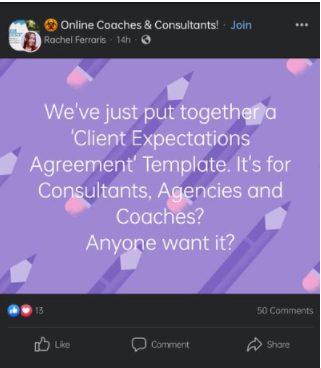 Note: This post has generated 50 comments (eg. 50 leads)
HOT TIP: Combine a 'thing' word with an 'outcome' word. For example, 'Template', 'Bundle', 'Framework', 'SOP' are all thing words. An outcome is the result the thing was designed to deliver. Both these words answer that ever-present, usually unspoken question, at the forefront of the prospect's mind: 'What do I get?'
WHY DOES THIS WORK: It was once said that 'Content is King'. But content is now meaningless on social media unless it generates engagement. Anything that triggers a reaction will outperform even the most helpful, cleverly crafted content.
CONTENT MARKETING
#4. Re-purposing now starts short
WHY: A typical content marketing strategy will usually begin with the creation of a longer item of content, such as a video, podcast and presentation. The creator will THEN find the best bits for re-purposing and syndication across various social media channels, ending in Tik Tok (eg. The shortest and, therefore, usually the hardest platform to work with in B2B).
RESPONSE: The above strategy is still extremely effective but usually creates a preference for the production of long-form content, whereas your future clients are usually seeking content in shorter, bite-sized formats. Rather, reverse the format. Start with the 1 minute version and use that as the template for longer items.
"I didn't have time to write you a short letter, so I wrote you a long letter instead." Mark Twain
HOT TIP: If you can master the art of short-form content, it then becomes easier to create long-form content. However, if you are stuck, heed the advice of Mark Twain (above). It's better to get something started than seek perfection and never get started at all.
SALES & SELLING
#5. Discovery and Breakthrough sessions don't sell
WHY: If your sales model usually requires a conversation (eg. if it is often difficult to explain what you do or how you do it differently), it is vital that you book meetings with prospects often and consistently. But high-quality future clients are almost always time-poor.
RESPONSE: A typical solution is to elevate the perceived value of the meeting by giving it a name. However, the offer of a Discovery Session or Breakthrough Call is fast losing its caché (seem as an opportunity for you to pre-qualify then pitch, without offering value).
HOT TIP: Frame and promote your meeting as if it were a product of high value to the prospect. To do that, combine an 'outcome' with a 'thing' word. What is a valuable outcome that you could deliver over the phone in 45 minutes? Couple that with a thing word, such as 'Audit', 'Assessment', 'Planning Session', 'Situation Analysis'. These are things that your future clients normally expect to pay for. We call this type of meetings an AWP, an 'Appointment with Purpose'. It answers the unspoken question, 'What's in this for me?'
#6. Social selling does not mean 'pitching' to strangers
WHY: It's not uncommon these days to received unsolicited pitches via Direct Message on social media, such as Facebook Messenger or LinkedIn messenger. The practice is prolific because it works. At the same time, these are mostly irritating, when they don't need to be.
RESPONSE: Social media is not for selling. It's for starting conversations, being generous with your knowledge and then taking relationships OFF social media when the prospect has indicated that they are the right fit and interested. Be clear on your own 'off ramp'.
DEFINITION: "a social media 'off ramp' is your mechanism for getting future customers and clients OFF social media. It is your first priority when putting together a social media plan if your goal is business development."
HOT TIP: Can you give something away? Can you book a meeting that sounds like a product? If you can name your target audience with extreme specificity, they are more likely to respond just because you have named them (like when you call out to a friend by name.)
#7. Your future clients now prefer remote sales
WHY: While it is still extremely valuable to meet with high-value prospects face-to-face in the real world whenever possible, most of your future clients no longer want to do business that way. They now prefer remote and online sales.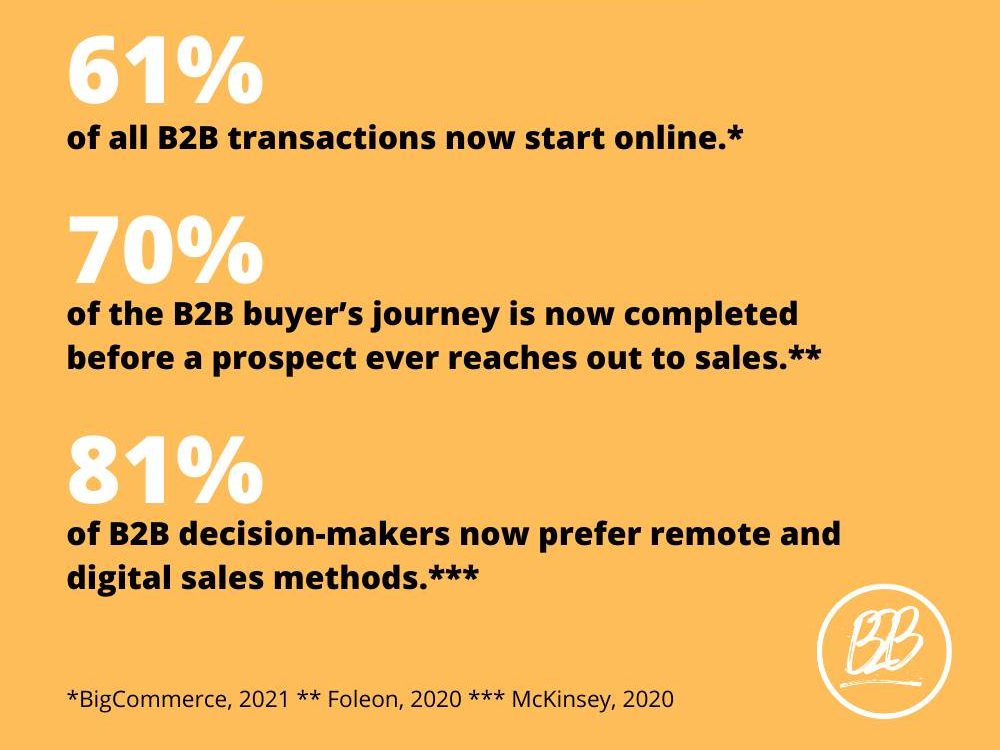 RESPONSE: Combine the recommendations above to offer a highly targeted AWP over the phone or face-to-face via Zoom or Skype. Video conferencing technologies are no-longer unfamiliar or alien to your target audiences. They connect with clients, suppliers and staff every day using some sort of video tool.
HOT TIP: Embrace Handraise Emails and Posts to start conversations. Deliver on the promise you made, then introduce the value of your AWP, creating your own off ramp.
James Tuckerman is…
NEED EXTRA GUIDANCE AND SUPPORT? GO HERE.