What comes first? Leads or sales? This is not a trick question. It's not a chicken and egg question either! If you sell a complex product or service, that's not driven by impulse, that requires a bit of thought and consideration before an agreement is reached… leads always come before sales.
That's why, below, you will find 24 lead generation strategies for B2B.
Most are super-obvious. Some you could action by the end of the day! And that's because lead generation is not something you do once. It's a process. It's about seeding your marketplace with opportunities for future clients to enter your funnel.
Want this article as a handy PDF? Click here.
Let's start with…
Part#1: Strategies to get leads from your website
If you're in the b2B space, you probably put a lot of thought into your website… at the beginning. But, then, once you were happy with it (once it was looking polished and professional), you moved on. But your website is about more than building your authority, and demonstrating that you are 'real'.
#1. CONTENT UPGRADE
If you have a blog, make sure that every post concludes with an opportunity to get the article as a PDF. Or, use the space below or above the article to offer a pertinent free report. Do not invite strangers to subscribe to your email newsletter. Invite them to register for a free gift instead.
EXAMPLE: At least three times in this article, I have provided an invitation to get an 'UPGRADE'. Get this article as a PDF? As a handy checklist? Something that you can refer to later?
Just click this link here.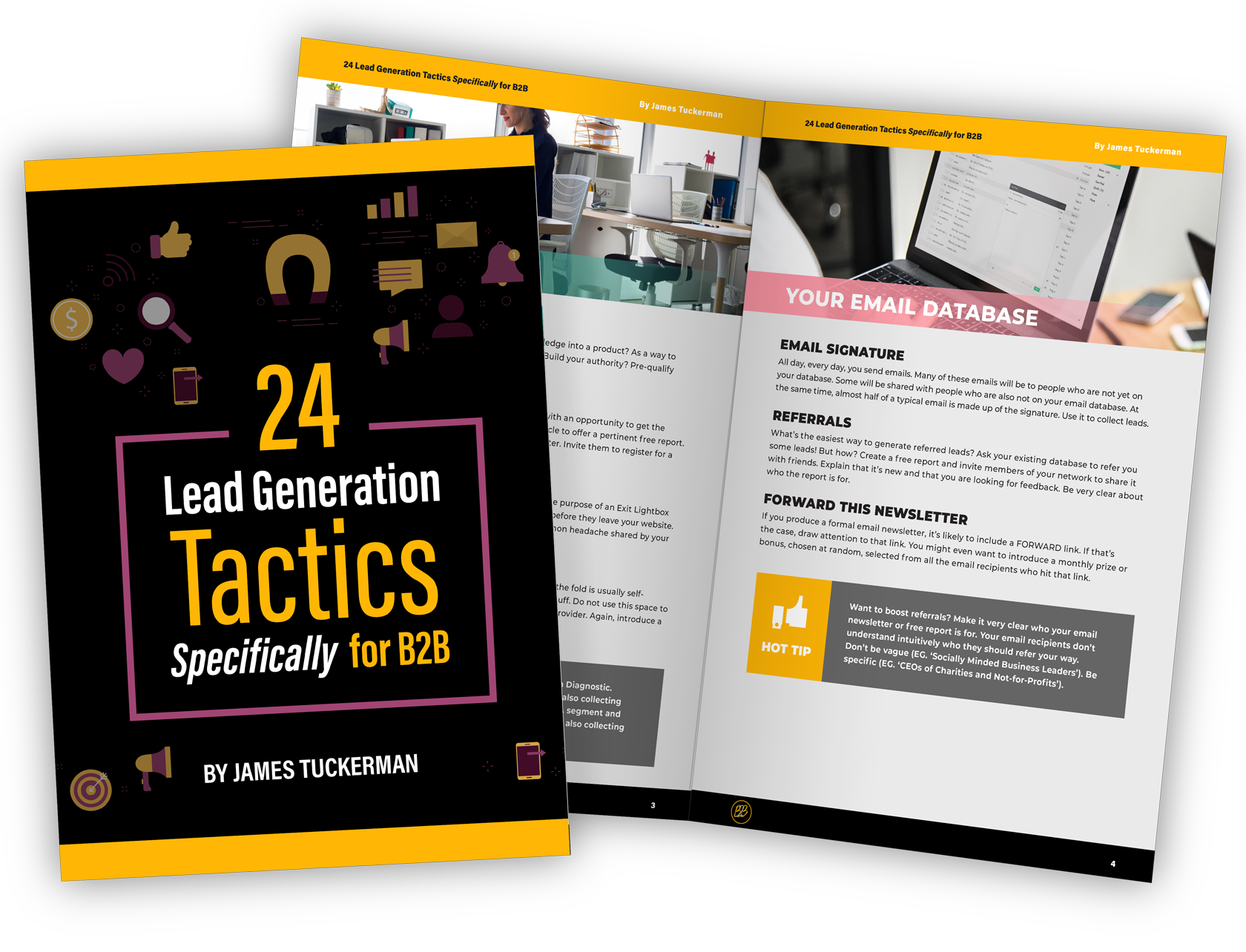 #2. EXIT LIGHTBOX
Most people who visit your website will never come back. The purpose of an Exit Lightbox or Exit Popover is to grab the attention of the potential lead before they leave your website. Offer these potential clients a free report that tackles a common headache shared by your target audience.
#3. DROP DOWN OFFER
On most websites, most of the information that appears above the fold is usually self-centered, highly-forgettable, borderline meaningless marketing guff. Do not use this space to explain that you are a leading end-to-end synergistic solutions provider. Again, introduce a gift, such as a free resource.
HOT TIP: Use the space above the fold to promote a Diagnostic. What's that? It's a survey that gives while also collecting information. It can be used to collect leads, segment and pre-qualify leads (based on answers), while also collecting data AND positioning you as the solution.
Part#2: Strategies to get more from your Email database
We all have a love-hate relationship with email, especially email marketing! We don't want to 'bother' our audiences, so we avoid mailing if we can avoid it. But seriously, what's the point of having an email list of you don't use it. The reality is that when you mail infrequently, you get more opt-outs.
#4. EMAIL SIGNATURE
All day, every day, you send emails. Many of these emails will be to people who are not yet on your database. Some will be shared with people who are also not on your email database. At the same time, almost half of a typical email is made up of the signature. Use it to collect leads.
EXAMPLE: When you click here and register to get the free report, I will send you an email with that free report. Check out the email signature at the foot of my email. It provides the usual stuff (email, phone etc) but it also includes social media links and other ways for you and I to stay in touch.
#5. REFERRALS
What's the easiest way to generate referred leads? Ask your existing database to refer you some leads! But how? Create a free report and invite members of your network to share it with friends. Explain that it's new and that you are looking for feedback. Be very clear about who the report is for.
#6. FORWARD THIS NEWSLETTER
If you produce a formal email newsletter, it's likely to include a FORWARD link. If that's the case, draw attention to that link. You might even want to introduce a monthly prize or bonus, chosen at random, selected from all the email recipients who hit that link.
HOT TIP: Want to boost referrals? Make it very clear who your email newsletter or free report is for. Your email recipients don't understand intuitively who they should refer your way. Don't be vague (EG. 'Socially Minded Business Leaders'). Be specific (EG. 'CEOs of Charities and Not-for-Profits').
Part#3: Getting Leads from LinkedIn without Ads
LinkedIn is a super-powerful source of leads if you operate in the B2B space. Your clients are all on LinkedIn and, when they are there, they are thinking about business. It's why we apply most of our organic strategies to LinkedIn first. Get LinkedIn strategies for Lead Generation here.
#7. START A LINKEDIN GROUP
This is an outrageously easy way to build your network and collect leads on LinkedIn. And that's because LinkedIn Groups kinda stink… for now. LinkedIn has a habit of watching what Facebook does and then doing the same. At the moment, LinkedIn Groups are very easy to build. 
#8. POST LINKEDIN ARTICLES
But don't just stop there. Make sure that you include a link offering the same article or the entire series as a free report, available as a PDF. Your first goal when using any social media platform is to get your fans, followers and connections OFF social media. Always have an off ramp.
This article you can find on LinkedIn here.
#9. SCHEDULE LINKEDIN UPDATES
There are two ways to make this happen. You can either set aside time daily to post on LinkedIn (always make sure you have an 'off ramp'). Or you can leverage the power of a scheduling tool. We currently use a tool called Meet Edgar, although there are many. They will rotate content for you.
HOT TIP: Always be clear on your email goal. What mechanisms do you have in place to get potential clients OFF social media? Do you have a free report? Maybe you have developed a Diagnostic or Scorecard? Could you invite connections to schedule time for a Strategy call.
Part#4: Paid LinkedIn Advertising Strategies for B2B
Once you have a consisted and reliable strategy for converting your B2B leads into clients, you can crunch the numbers and decide how much you can reasonably afford to spend on LinkedIn ads. For example, if a client is worth $10,000 and if you are willing to invest 10% of client income on client acquisition ($1,000), and if you know that one in 20 leads becomes a clients (because you've been tracking you metrics), you now know that you can invest up to $50 per lead. Ads cost money. But they are consistent and can be scaled (unlike organic strategies).
Looking for a calculator to figure out how much you can reasonably afford to invest on ads?
Watch the ad spend calculator for B2B video.
#10. SALES NAVIGATOR
LinkedIn provides several plans and premium options. One of those will allow you to reach out to strangers (EG. People who are NOT first degree connections) using its Sales Navigator service. When used in combination with third-party messaging apps, Sales Navigator is a tool almost without limit.
#11. THIRD PARTY APPS
The use of third party apps almost invariable breach the terms and conditions of LinkedIn. That does not mean, however, that they are not widely used. The best (in our opinion) are those which send connection requests to members of your target audience and trigger follow-up or bulk messages.
#12. LINKEDIN ADVERTISING
LinkedIn offers one of the the easiest to use and most targeted advertising platforms for B2B business owners. Unlike other advertising options, you pay for the click. This means that it helps to have a laser clear understanding of your target audience and a 'lead magnet' to collect the lead.
HOT TIP: Whenever you invest time and money in any form of lead generation campaign, it pays to know your most important metrics and measures them accordingly. The CPC (EG. Cost-Per-Click) is very important on LinkedIn. But not as important at the Cost-Per-Lead or Cost-Per-Meeting.
Part#5: How to get B2B leads from Facebook without Ad Spend
Facebook is fun! And most adults now use it. But, for that reason, it can be hard to isolate and connect with people who fit within your target audience. On Facebook, you can kiss a lot of toads before you meet your prince, if you know what I mean. Unlike LinkedIn, it can be hard to find the right people to connect with. As a bare minimum, it helps to have your own Business Page in addition to your Personal Profile. Join Groups or create your own.
#13. FACEBOOK GROUPS
Your success monetizing a Facebook Group will largely come down to the interests and habits of your target audience. Furthermore, it helps if you can name your audience in a way that they self-identify with. For example, a 'Product Managers' group will naturally attract Product Managers.
Here's a link to our group, called B2B Talk. It's for people who want to ask questions and share their own insights about B2B sales and marketing strategies. Come say 'Hi'. 
#14. FACEBOOK PAGES
You will need a Facebook page to run Facebook ads. Other than that, these rarely attract the interest (or leads) that they once did. However, they still perform a useful function in your sales and marketing by giving you or your business a publicly visible 'home' on Facebook.
#15. YOUR PROFILE
It's now possible to include a lead to your website or a free gift in your personal bio. We have found this tactic to be simple and powerful, generating high-quality, extremely warm leads and frequently. It works best as part of a larger campaign, incorporating Groups, Pages and Scheduled Posts.
HOT TIP: When setting up pages and groups on social media, it's tempting to name these pages and groups after your business. Don't do that. Name them to reflect the interests of your target audience. For example, "I love baseball" as a name will always beat "Bob's Sporting Goods."
Part#6: How to get Leads from Podcasts & Clubhouse
If you are selling a complex service that usually requires a conversation, if it would help you to become recognized as an authority in your field, both podcasts and the Clubhouse App provide very 'intimate' platforms to demonstrate your expertise. While you might record something once, or schedule time to participate in Clubhouse conversations, it creates the feeling among listeners that you are in the room with them. That's how these platforms accelerate trust.
#16. START YOUR OWN
Whether you want to start a Podcast or just start hosting discussions on Clubhouse, it always helps to devise a clear topic that you can 'own'. Vague show names will not attract interest. Either will vague Clubhouse room topics. Our show is called B2B School. It's about B2B sales and marketing.
#17. APPEAR ON OTHERS
Again, it helps if you are well known for speaking about a certain topic. For example, there are millions of experts on 'Leadership'. But there are very few on 'Leading Remotely'. There are many 'Email Marketing' experts. But there are very few on 'Following Up' using email. Narrow is better.
#18. KNOW YOUR OFFRAMP
The best type of 'off ramp' for audio channels will usually come in one of two forms: Show Notes or Worksheets. In other words, when you get specific on a topic, make sure that listeners know where they can go to get any materials designed to complement the discussion. People still like to read.
HOT TIP: Most people have opinions. But most opinions do not lead to results. Therefore, very few people value opinions. And they rarely pay for opinions! On the other hand, your current and future clients actively seek instruction, and will even pay for it. Don't pontificate! Address real needs.
Want some help with Clubhouse? Get the 'Clubhouse for B2B Leads' roadmap.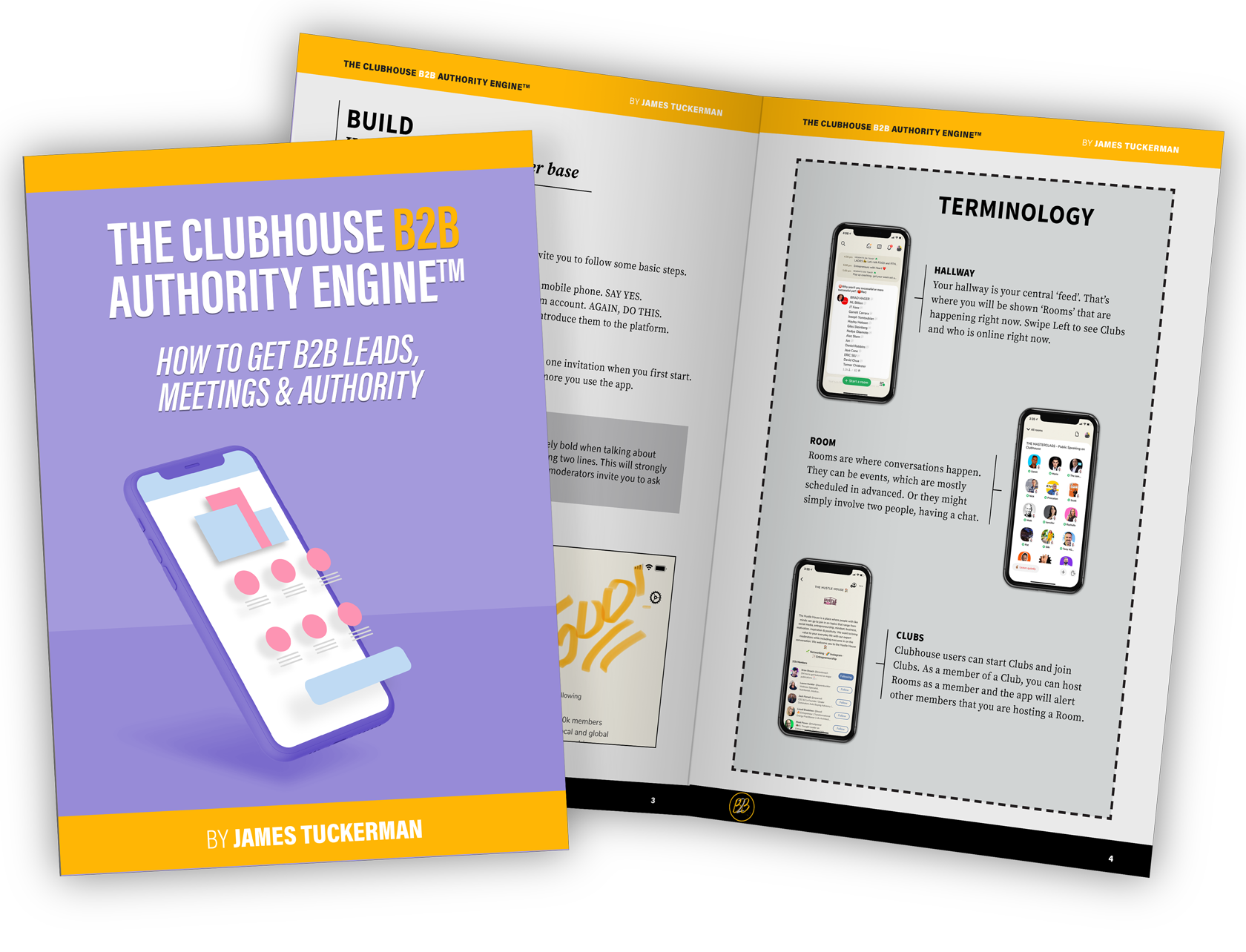 Part#7: SMAPs (Strategic Marketing Alliances & Partnerships)
You can spend a lot of time attempting to collect one lead at a time. Or, you could partner with someone else who already has access to a database of 'Goldilocks' prospects and forge a marketing alliance. These can take many forms. These are three of our most effective.
#19. RECIPROCAL SENDS
Strategic Marketing Alliances and Partnerships work best when you share a common audience but do not operate in direct competition. Who do you know who has a similar audience and a database of a similar size? Offer to share their free report to your audience, in return for a similar promotion.
#20. AFFILIATES & KICKBACKS
While most business owners will have some sort of informal referral network, these are usually inconsistent. Affiliate relationships are forged when the seller can track the sale on the part of the promoter. Most promoters prefer to offer a free gift, rather than make a direct offer.
#21. VIRTUAL SUMMITS
This marketing strategy harnesses the power of reciprocal promotion plus affiliate marketing. Virtual Summits are hosted online, featuring a sequence of pre-recorded interviews. Most speakers involved in the Summit are usually happy to promote the summit as a form of self-promotion. 
HOT TIP: Most marketing partners will be reluctant to promote your product or service directly. It's your responsibility to create something that they will be able to proudly give to their audience as a gift. This can be a report, a diagnostic or pass to a summit. It is NOT a voucher or free trial.
Check out our B2B Sales & Marketing Summit.
Part#8: What about Twitter and Instagram and Pinterest for B2B leads? Is it worth it?
That's an important question to ask yourself? You can only do so much and, if you spread yourself too thin, you might end up with no leads at all! When deciding whether to these platforms, as yourself, "Am I already creating content?" If you are, perhaps syndicate that content.
#22. TWITTER
If you already have a blog or if you are already creating social content, it pays to re-post on Twitter or syndicate links and headlines using third-party tools. For example, we use a tool called Zapier to do this. But do not forget to include offers and links to your free report(s). Get them OFF Twitter!
#23. INSTAGRAM & CLUBHOUSE
While Instagram is often regarded as a B2C platform (as a way to promote fashion and wedding cakes), the surprising and explosive growth of Clubhouse has begun to make this very visual tool popular among B2B business owners (because it offers the only 'off ramp' from Clubhouse).
You can see how we're using this platform when you go here.
Check out the content.
Click the link in the Instagram bio.
This 'Linktree' is what we use to collect leads on Instagram and Clubhouse.
#24. PINTEREST
Do you have templates? Do you produce infographics? Do you prepare quote memes? Pinterest is a highly under-rated platform in the B2B space yet it is highly search-engine optimized. For example, type 'Virtual Summit Landing Page Templates' into Google and Pinterest will come up.
HOT TIP: Visual platforms and 'short-form' media outlets, such as Twitter, Instagram and Pinterest, often pose a challenge to B2B marketers, who sell complex products and services that rarely can be explained visually. However, this creates a less cluttered place to share B2B templates.